Time Stamps:
00:00

-03:23 - Bear market overview
03:24-06:21 - Inspiration from unexpected sources
06:22-10:27 - The four F's
10:28-13:33 - Questions you might ask yourself
13:34-16:08 - Key takeaways & working with Burney Wealth

16:09-25:16 - Q&A
On-Demand Webinar:
Mid-Quarter Investment Update:
The Importance of Follow Up after a Bear Market
What should you do after a bear market turnaround?
Andy Pratt, CFA, CAIA, discusses why following up on your investment strategy after a bear market turnaround is so important.
Using a framework for problem-solving, we identify how you should evaluate your portfolio including:
Asking the right questions;
Understanding the stress put on both you and the portfolio;
Measuring whether your portfolio performed as expects; and,
Learning how to identify the proper adjustments to make for the future.
If you have any questions or are interested in talking to a financial advisor about taking action steps discussed in this webinar, please contact us at info@burneywealth.com.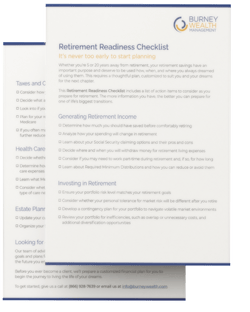 FREE PDF
The only Retirement Planning Checklist you need
Retire with confidence and peace of mind.
Our retirement planning checklist covers five important areas:
Generating Retirement Income

Investing in Retirement

Taxes and Cash Flow
Health Care and Insurance Planning
Estate Planning
Featured content from our blog