Time Stamps:
0:00

-

03:35

- Introductions & agenda

03:36-14:14

- Early retirement healthcare costs

14:15

-26:04

- Understanding Medicare

26:05 -33:07 - Long-term care - is it for you?

33:08

-37:25 - Q&A
On-Demand Webinar:
The Reality of Retirement Healthcare Costs
Road to Retirement Webinar Series, Part 4
What You Will Learn:
In Part 4 of the Road to Retirement Webinar series, we answer the following questions so you can understand the reality of healthcare costs in retirement:
What are my options for healthcare before age 65?
What do I need to know about Medicare?
Is long-term care for me?
If you have any questions or are interested in talking to a financial advisor about taking action steps discussed in this webinar, please contact us at info@burneywealth.com.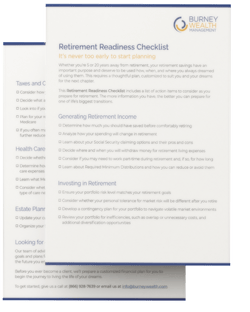 FREE PDF
The only Retirement Planning Checklist you need
Retire with confidence and peace of mind.
Our retirement planning checklist covers five important areas:
Generating Retirement Income

Investing in Retirement

Taxes and Cash Flow
Health Care and Insurance Planning
Estate Planning
Featured content from our blog