Time Stamps:
0:00

-

03:11

- Introductions & agenda

03:12-09:30

- Pre-retirement (accumulation phase)

09:31

-19:27

- Retirement (distribution phase)

19:28 -25:10 - Revisiting your retirement plans

25:11

-34:42 - Q&A
On-Demand Webinar:
I'm Retiring. Should My Investment Strategy Change?
Road to Retirement Webinar Series, Part 5
What you will learn:
In Part 5 of the Road to Retirement Webinar series, we'll take a look at what will drive potential tweaks to your investment strategy once you retire. We'll consider:
Setting your strategy during the accumulation phase (pre-retirement)
Determining your cash-flow needs and tweaking your strategy as required
Adjusting for a change in priorities during retirement
If you have any questions or are interested in talking to a financial advisor about taking action steps discussed in this webinar, please contact us at info@burneywealth.com.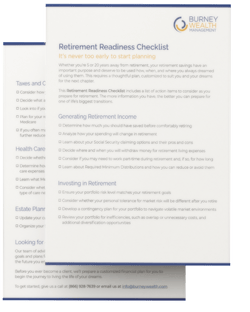 FREE PDF
The only Retirement Planning Checklist you need
Retire with confidence and peace of mind.
Our retirement planning checklist covers five important areas:
Generating Retirement Income

Investing in Retirement

Taxes and Cash Flow
Health Care and Insurance Planning
Estate Planning
Featured content from our blog