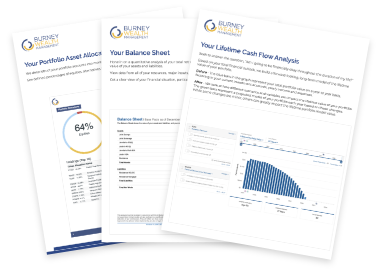 Sample Financial Plan
Before you ever commit to working with us, we want to sit down with you, learn about your goals and plans, and create a financial plan tailored to you.
Fill out the form below to preview a sample financial plan.
What's in the Sample Financial Plan?
This free 13-page PDF shows what you can expect to see in your financial plan (but specified to you, of course), including:
Your financial blueprint
Your balance sheet
Your short-term cash flow analysis
Your lifetime cash flow analysis
Your personalized tax report
Your personal portfolio analysis
Fill out the form to have a copy of the Sample Financial Plan delivered to your inbox.
About Burney Wealth Management
Founded in 1974, Burney Wealth Management was one of the first Registered Investment Advisor (RIA) firms in Virginia.
We are about relationships first and helping you feel truly at peace about your family's future. Even before becoming a client, you'll see a custom financial plan built to protect and grow your investments and assets.