Time Stamps:
00:00

-

02:29

- Introduction & Agenda

02:30-6:00

- Should I retire?

6:01

-

22:26

- How do I retire?

22:27

-

25:38

- Can I retire?

25:39-27:00

- What can you do to feel more confident?

27:01

-30:13 Q&A
On-Demand Webinar:
Am I Retirement Ready?
Road to Retirement Webinar Series, Part 1
What You Will Learn:
Retirement is something we plan for most of our lives, but most people haven't thought about what it will be like in reality once they get there, or if they are truly ready.
In Part 1 of the Road to Retirement Webinar series, we tackle the psychological and logistical questions of retirement planning, like:
Should I retire?
How do I retire?
Can I retire?
If you have any questions or are interested in talking to a financial advisor about taking action steps discussed in this webinar, please contact us at info@burneywealth.com.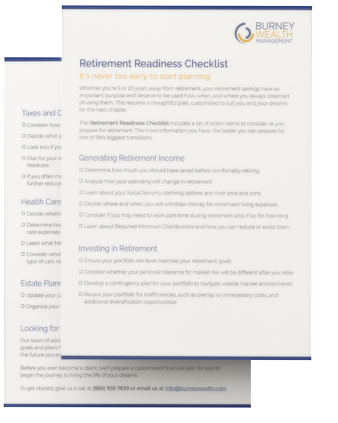 FREE PDF
The only Retirement Planning Checklist you need
Retire with confidence and peace of mind.
Our retirement planning checklist covers five important areas:
Investment planning
Budgeting and employer benefits
Insurance planning
Estate planning
Tax planning
Featured content from our blog