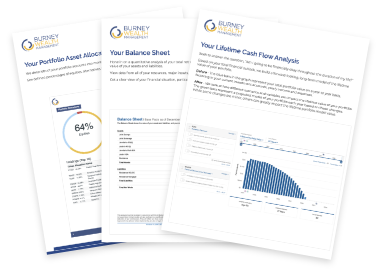 Sample Financial Plan
Before you ever commit to working with us, we want to sit down with you, learn about your goals and plans, and create a financial plan tailored to you.
Fill out the form below to preview a sample financial plan.
What's in the Sample Financial Plan?
This free 13-page PDF shows what you can expect to see in your financial plan (but specified to you, of course), including:
Your financial blueprint
Your balance sheet
Your short-term cash flow analysis
Your lifetime cash flow analysis
Your personalized tax report
Your personal portfolio analysis
Fill out the form to have a copy of the Sample Financial Plan delivered to your inbox.
About Burney Wealth Management
At Burney Wealth Management, we're not about impersonal, run-of-the-mill metrics like your age group, hitting a specific savings target, or conventional stock/bond mixes.
Instead, you get a team of credentialed financial professionals with a five-decade track record of building forward-looking portfolios. We have access to advanced planning, modeling, and investment tools to ensure you stay ahead of any risks and opportunities.
We do the research to project towards the future, not simply follow outdated rules of thumb.