Our team includes the following elements in every financial plan.
So here's what you can expect to see in your financial plan (but specified to you, of course).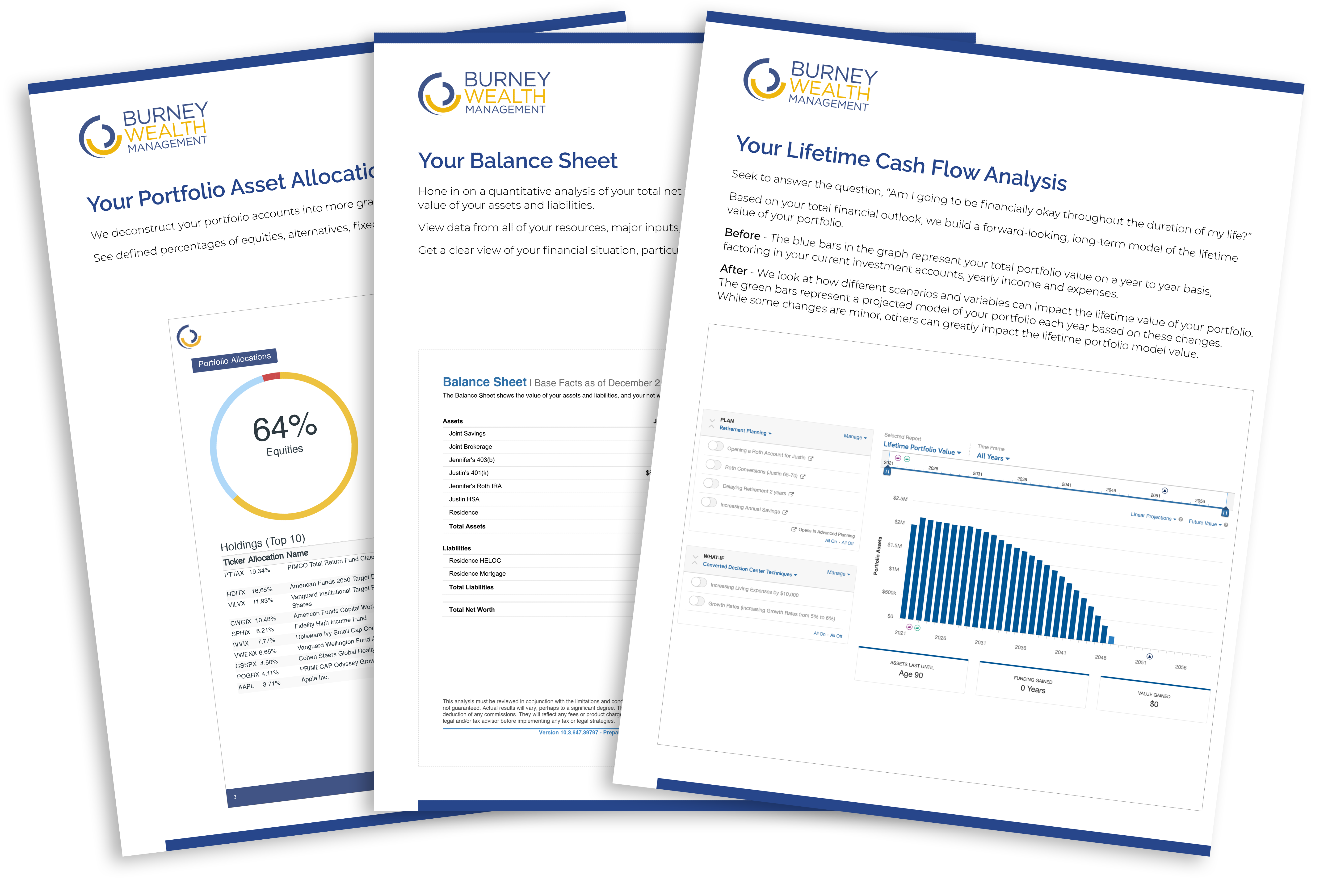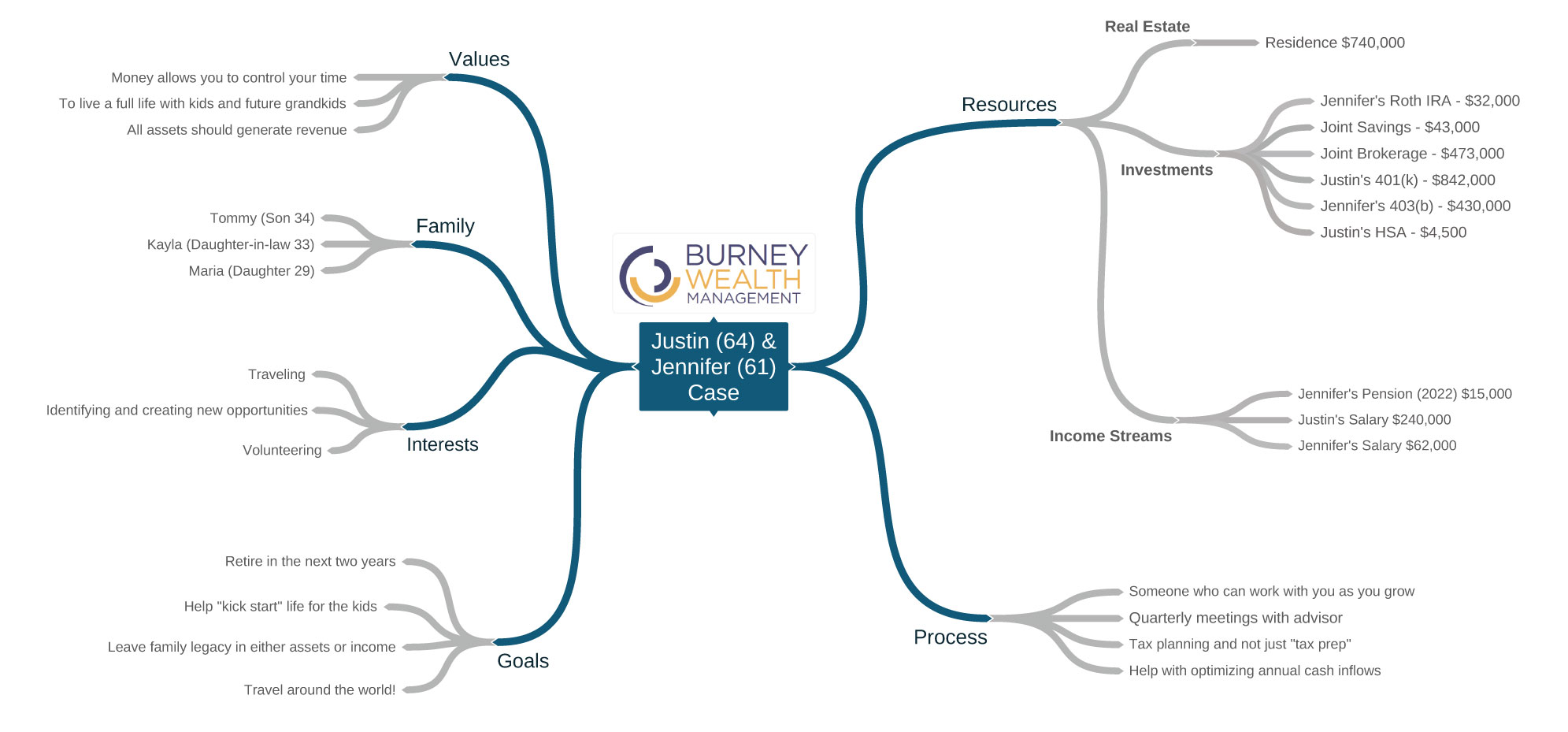 Click image to enlarge
1
Your Financial Blueprint
Start with a visual representation of your life on one page, laid out in an easy-to-follow graphic.
On the left, see the "why"
behind your finances: your personal values, interests, and the specific financial and personal goals you want to achieve.
On the right, see the "how"
with a holistic outlook of your total financial life. Review your resources, investments, and income streams, and clarify how you would like us to work with you.
2
Your Balance Sheet
Hone in on a quantitative analysis of your total net worth, broken down into a visual depiction of the value of your assets and liabilities.
View data from all of your resources, major inputs, and investment accounts for your household.
Get a clear view of your financial situation, particularly the tax treatment of each of
your accounts.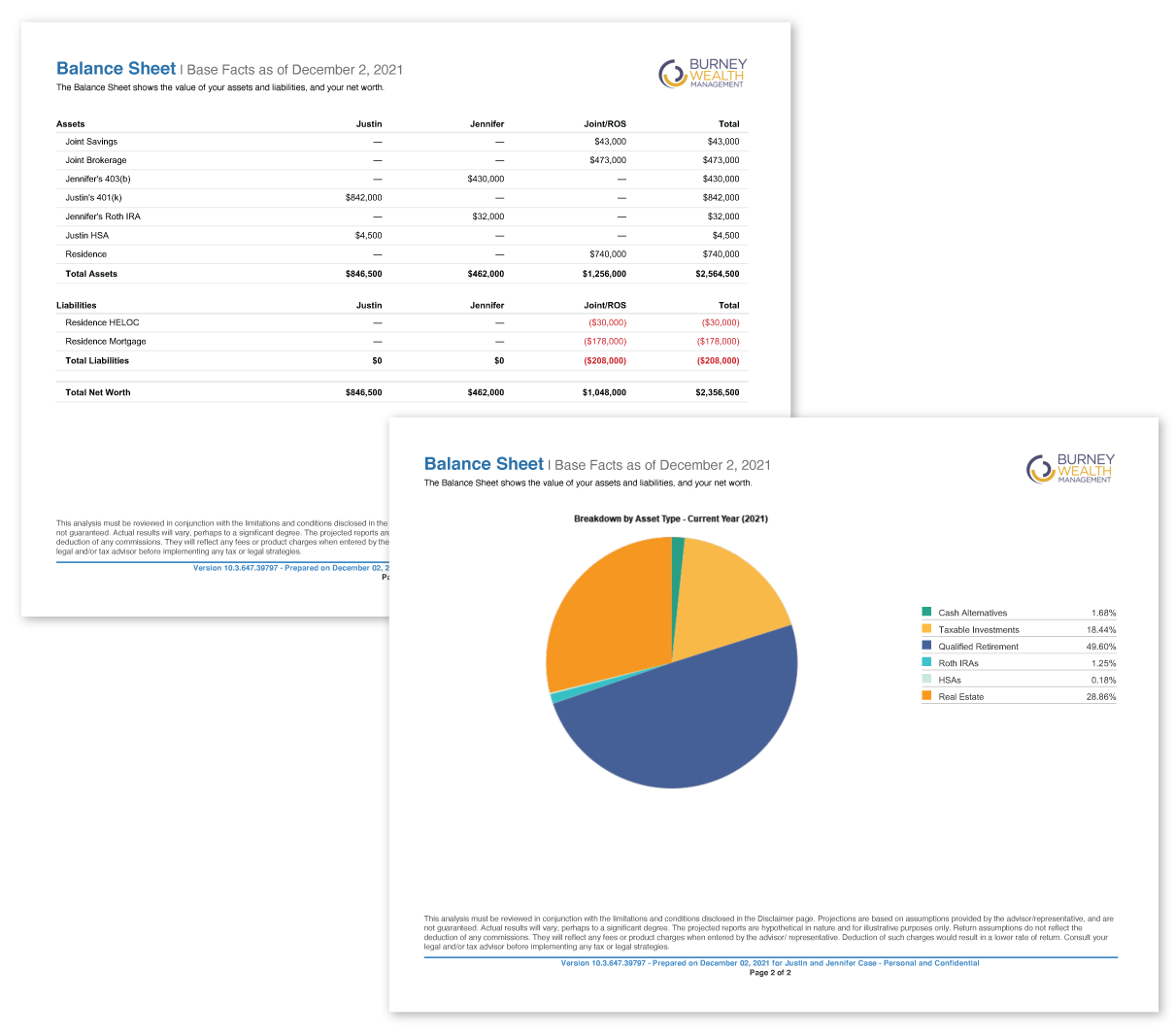 Click image to enlarge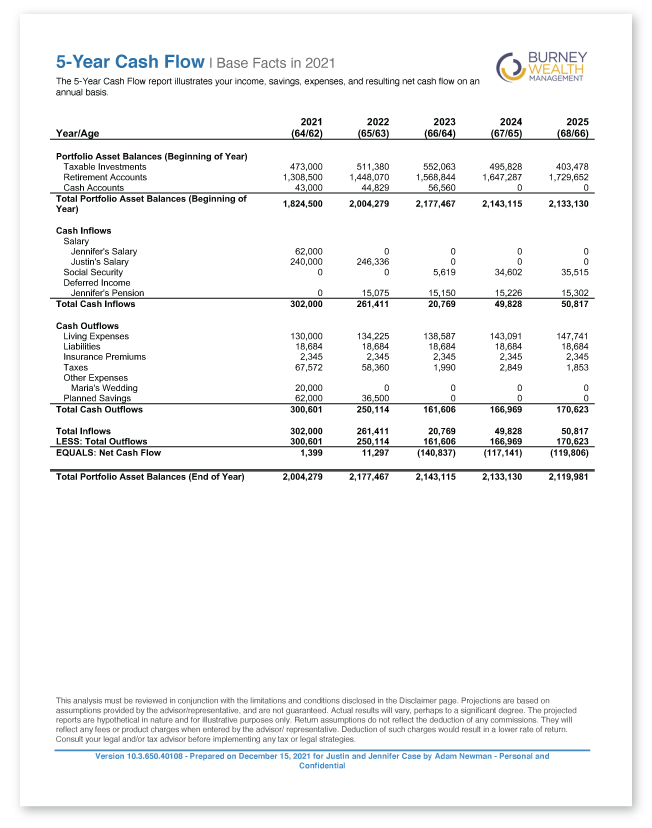 Click image to enlarge
3
Your Short-Term Cash Flow Analysis
Visualize the next 5 years of your financial life, including your investments, income, savings, and expenses.
While we also help you with forward-looking projections to accomplish your long-term goals, a 5 year window is immediately relevant and impactful.
Depending on your situation, get a real time illustration of the impact of salary changes, additional income sources, new savings opportunities, anticipated tax changes, and insurance updates.
Prioritize where to save and where to cut expenses to achieve short-term and long-term goals.
4
Your Lifetime Cash Flow Analysis
Build a forward looking, long-term model of the lifetime value of your portfolio.
Before
The blue bars in the graph represent your total portfolio value on a year to year basis, factoring in your current investment accounts, yearly income and expenses.
After
The green bars represent a projected model of your portfolio each year based on changing variables and considering potential scenarios. While some changes are minor, others can greatly impact the lifetime portfolio model.
In this example, the projected-green model provides an illustration of suggested changes, including completing a Roth conversion, delaying retirement, and increasing annual savings. It also takes into account an increase in living expenses, anticipated growth, and inflation rates.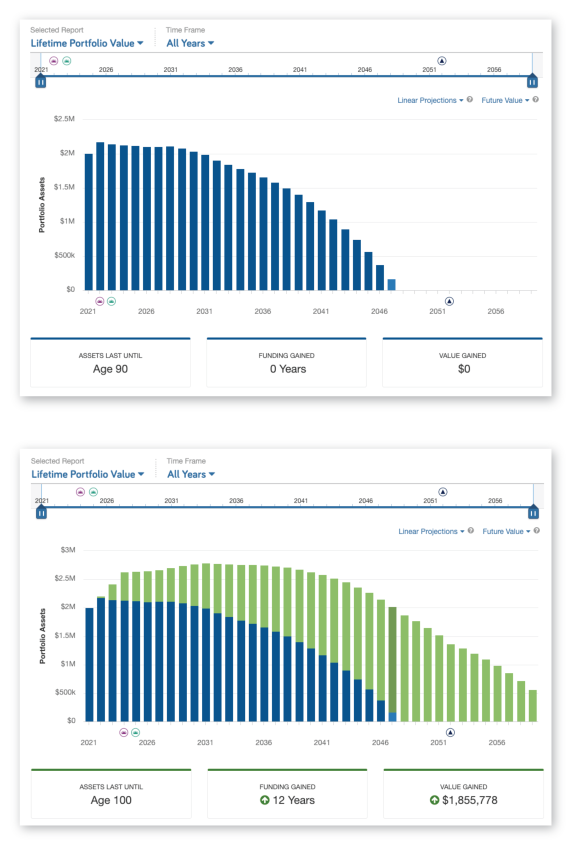 Click image to enlarge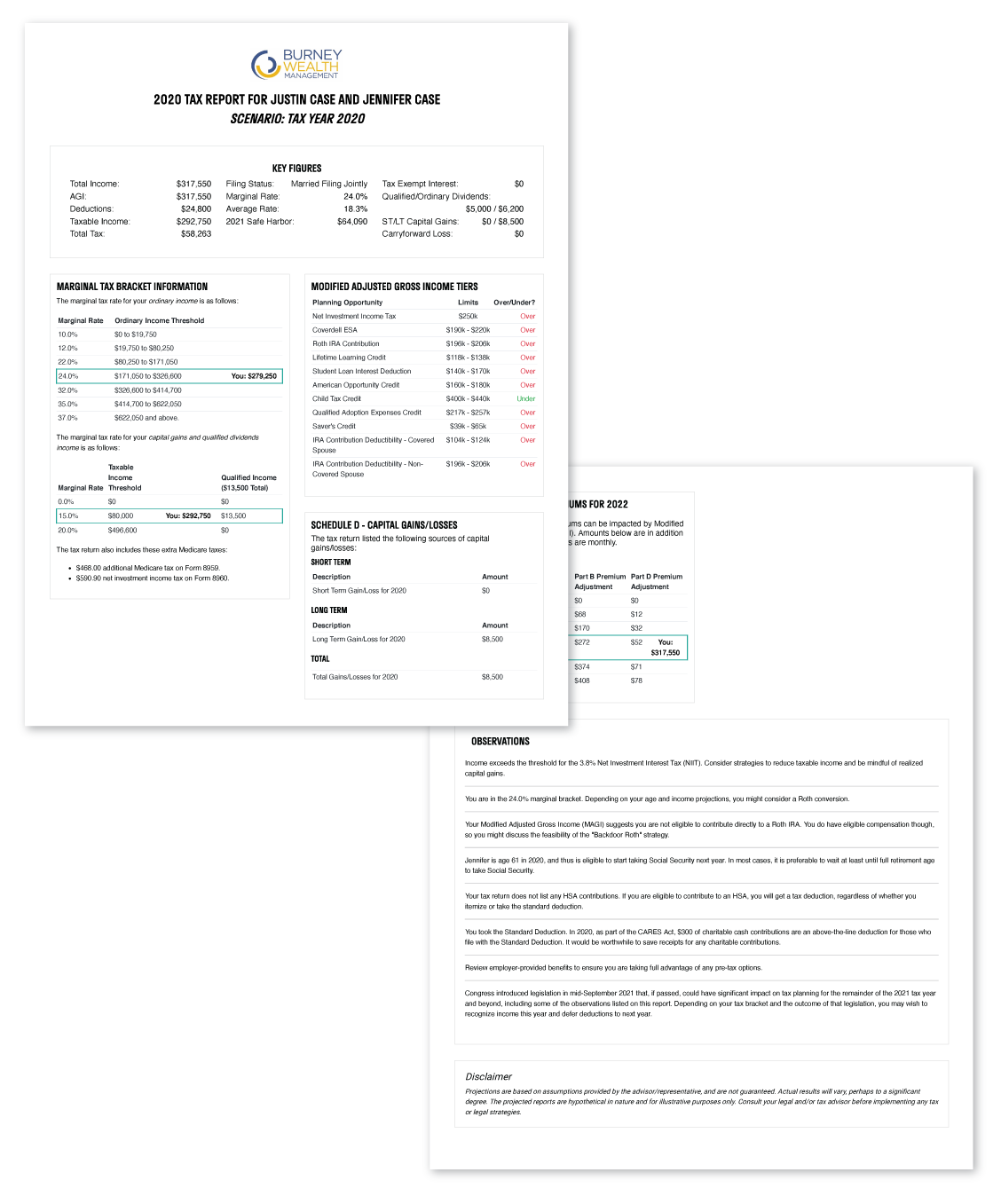 Click image to enlarge
5
Your Personalized Tax Report
Look at your tax situation in a clear, easy-to-digest format that breaks down your income, tax bracket information, deductions, and capital gains and losses.
Review key insights and discuss tax planning strategies to help you optimize your situation on a year by year basis.
Your personalized tax report is integrated with the Lifetime Cash Flow Analysis, factoring in different "levers" or adjustments, projecting how certain changes can impact your tax situation.
6
Your Personal Portfolio Analysis
Your custom financial plan now shifts into an analysis of your investment portfolio created by our team of experienced investment analysts.
At Burney Wealth Management, we purposefully choose to review your portfolio investments after building your custom financial plan, not before. Financial planning is your foundation, an essential prerequisite for investment planning.
We help you break down your portfolio into its strengths and weaknesses. From there, we identify areas of opportunity and improvements, all through the lens of your unique financial situation and long-term objectives.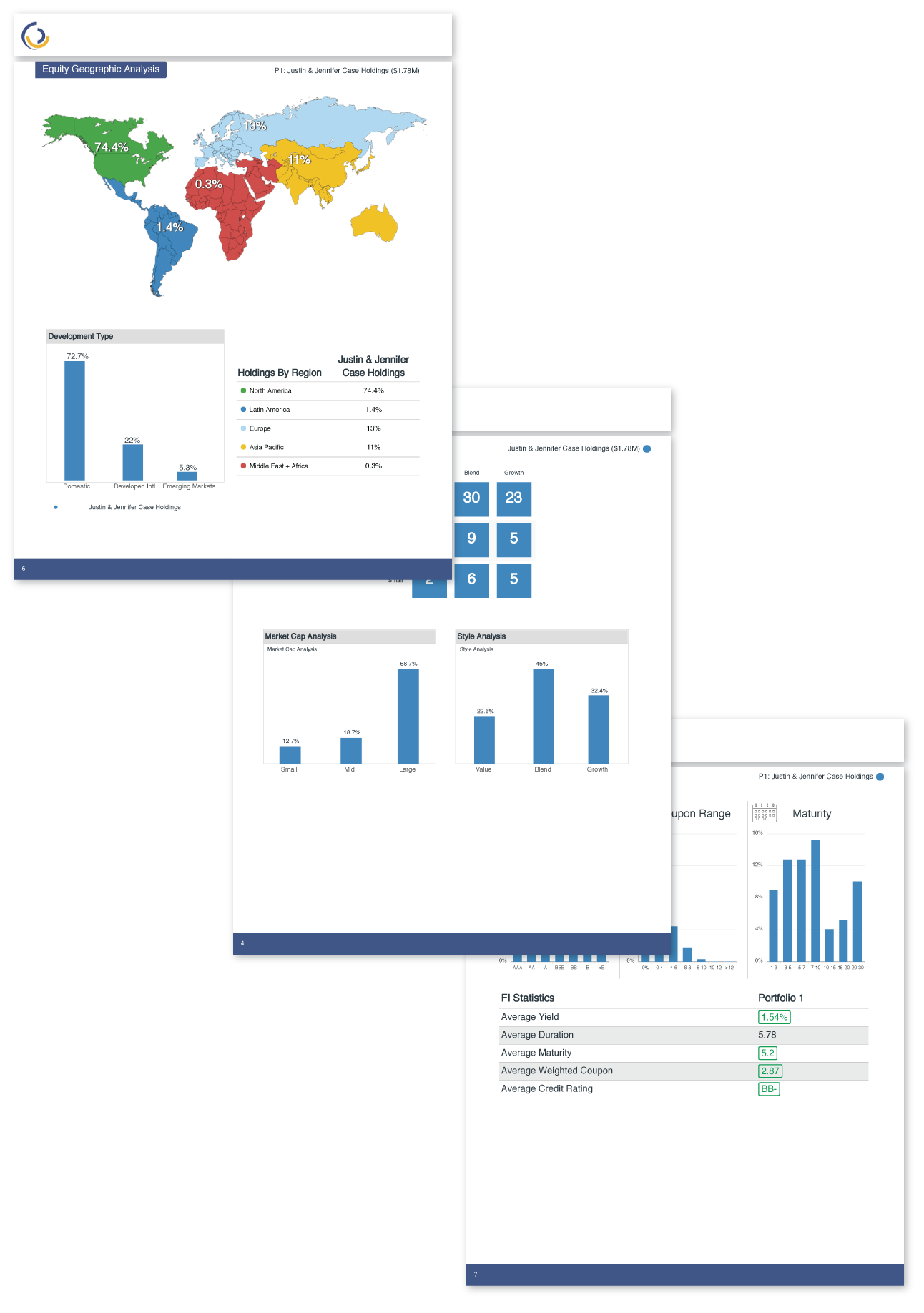 Click image to enlarge
Get your sample financial plan today.